JAM GAMES
Here are my free game jam games. I made each game with a specific theme and in a short amount of time. Most of these were made in less than 48 Hours!
Cluttered Skies

Its raining cats and blocks! Jump, climb, and dodge falling junk from the sky in this physics-based pixel platformer. How high can you make it before you get tragically squished by a toaster.
​

​Compo: Ludum Dare 38 Theme: A Small World Engine: Unity
Broom Bot Battle

What do robot vacuums do when you're

not home? They have sumo wrestling matches on the rug of course!
​Jam: Ludum Dare 37 Theme: One Room Engine: Unity
Doodle Royale

Welcome to the Paper Arena. You'll be competing in the Doodle Royale! Pick up one of three weapons and hack n' slash your way through hundreds of monsters!

Jam: Ludum Dare 36 Theme: Ancient Technology Engine: Unity
Poly-go-on

Poly-go-on is an endless runner where the track is a polygon that grows another side and changes shape with each lap. It may be easy at first, but every lap adds a little more difficulty.

​

Compo: Ludum Dare 35 Theme: Shapeshift Engine: Unity
​Snake Blaster

Battle your friend in this 1v1 classic mix of Astroid and Snake. Pick up items to grow your tail of weapons. Use those items to attack your opponent. Aim at their head to cause damage or sabotage them by shooting at their tail to destroy their ammo.
Compo: Ludum Dare 34 Theme: Growing Engine: Unity
Tiny Bit

Tiny Bit is a tiny platformer/rage game that fits all into one screen. Try to complete all 16 tiny levels with the least amount of deaths.
Compo: Ludum Dare 31 Theme: Entire Game on One Screen Engine: GameSalad
​Space Insanity

HOLY SPACE COWS!! Four enemy ships have cornered you and you don't have any lasers guns to defend yourself! How long will you survive in this intense Atari themed arcade game.

(

placed in the top 16.)



Compo: GameSalad 2014 GameJam #2 Theme: Old School Engine: GameSalad
Super Balloon

Super Balloon is not exactly a "flappy" clone. It is the next step up from Flappy Bird. There are many power ups to help you go further and you float instead of flap.

Compo: GameSalad 2014 Game Jam #1 Theme: Soar to New Heights Engine: GameSalad
​Color Spectrum Runner

When three 2D worlds combine, it is up to you to guide a square through this endless obstacle course by jumping from one colored world to the next.

Compo: Ludum Dare 30 Theme: Connected Worlds Engine: GameSalad
​Dark Maze Escape

Escape the underground maze.

Fight your way to freedom in this fun randomly generated dungeon game.

Compo: Ludum Dare 29 Theme: Beneath the Surface Engine: GameSalad
Powered by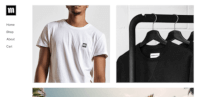 Create your own unique website with customizable templates.