ABOUT A.W. APPS
Hello! I'm Andrew Willeitner, I'm a self-publishing indie game developer and a University of Utah Computer Science EAE student. I started my passion for developing games in 2010 on the gaming website Roblox with LUA. Afterwards, I decided to switch over to mobile game development. I first developed mobile games using the GameSalad engine, then in 2015 I moved over to using the Unity engine with C#. I have made a few games on iOS and Android devices. "Zig Zag Run" even reached the top 100 charts in 2015. I also enjoy making small games in game jams.

Currently I'm working on a multiplayer game for the Roblox platform (coded in LUA) that is a mix of "Dead By Daylight" and the wackiness of "G-mod gamemodes" titled, "Flee the Facility". It is still in open-beta, but despite that it still remains on Roblox's top 20 games, with well over 200 million plays and a peak of 30,000 concurrent players at once.
Powered by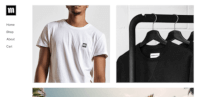 Create your own unique website with customizable templates.